Gengar & Litwick doodle sketch because I miss them ♥♥♥♥♥♥ 
(///v///) I wish to make a fanbook of them….
Q:Megatron / SoundWave from TFP? :D
whitmoon
ship: ew / nonono / maybe / ship it / aww / otp / MY HEART

PLEASE….THEY ARE MY LIFE.

I can say that I love Meg/sound in every universe they appear like Optimus and Ratchet. I always craving for this pairing fanart and fiction (especially when Soundwave was dominant…..) They so hard to find lol

I did plan to make a fanbook for this pair. I only need time to done it!!!!

If you find any art or fanfic of this paring feels free to tell me!!!!! I'll be very appreciate!!!!
If you are TF fan and didn't follow Judus-san's art  You should go to look around her gallery because she is so talented ///v///

I love Meg/Sound! I love a kind of relationship between Master and his subordinate  ///v///!  and…and… Soundwave is my most favorite character in this Fandom. (Soundwave as dominant is quite new for me aaa). Fanbook of them!?  Yay! ///v///! 

พี่เน่!! หนูชอบ เมกซาวน์….ซาวน์เมกหนูเพิ่งเคยได้ยินนน  ถถถถ ซาวน์เวฟ น่ารักฟุดๆ เท่ด้วย ชอบคะชอบบบบ  ชอบดีไซน์มากด้วย อ๊ากกกก  จริงๆอยากถามด้วยว่าชอบ Longarm/Blurr หรือ Shockwave/ฺBlurr ในภาค Animated ด้วยไหมมมม
Anime Opening should stop make them looks awesomeeeee. They are so cool in this styleeeee ////_////lll
I really love this style /////_///// Sketchy style make the picture looks so powerful!!
(via curenightmare)
I went back to see my oldest work in my Photobucket and try to compare with the newest one of that character….And…my oldest work is Blues (////_///ll !!! )  So..I compare with the newest one of him…

Did I draw him for 9 years now!!! So longggg  ////_///ll !!
(and he still be my favorite…)

anddd…..I find out that before I like BluesxForte….my OTP was BluesxRock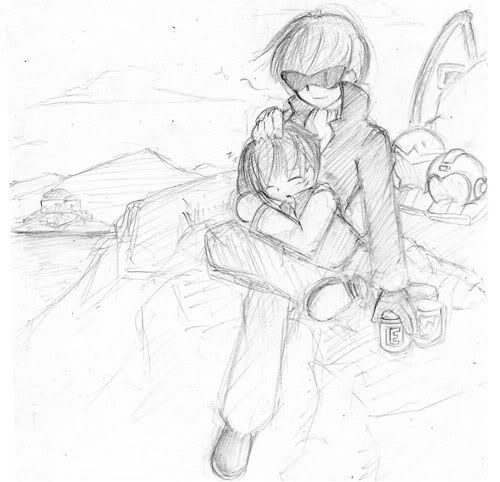 /////_///ll !!!!!  I can't remember it!!!
(But it is funny to see your old works….and I still love some of my old art style in the past ///_///lll)